SCULPTURE PATH
The IOBS sculpture symposium makes it possible to experience the process of creating art.
The Sculpture Path creates ideal conditions for experiencing art in public area.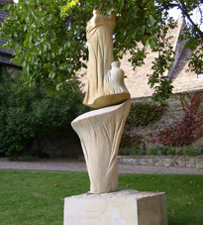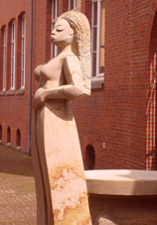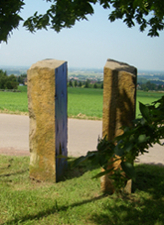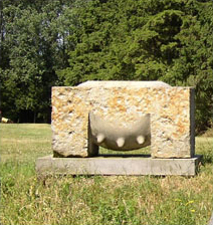 The interaction of sculpture and surrounding is providing the unique attraction of the sculpture path. Squares and corners, streets and parks are upvalued and changed characteristically by sculptures. Sculptures integrated in the landscape are becoming totally new dimensions.
The elegant, organic shapes of the sculpture, Searching for the Sun, made by the Italian sculptor, Fabrizio Dieci, are seeking for acceptance amidst the crusted walls of the 800 years old convent. The proud beautyness of an African woman, sculptured by Tutani Mgabazi, Zimbabwe, is also in bright sandstone displaying confidence.
The blue framed inside surface of the steles by Laura White, Sheffield, is fetching the sky to the stone, shaping a narrow "Zen-view" of the landscape, when you look through.
Completely unharmonious and headstrong in front of the greens of the golf course, - the sculpture, "Mother", made by Tanja Preminger, Israel. A unique interpretation of Woman and Mother, a dumb servant, - table and food source
Let your imagination free, start your art expedition and search your favorite of art among the ca. 50 sculptures – of which almost all can be bought, by the way.
Photos above (left to right):
Searching for the Sun, Fabrizio Dieci; Imagine of Beauty, Tutani Mgabazi; Between meaning, Laura White; Mother, Tanja Preminger